171110: New release, ER 24, Mool – Stop Being Perfect
100131: New release,
ER 23, Qiyans Krets & Oscar Fredriks Kammarkör – Echoes of Qiyan
090902:
New release, ER 22, Gunnar Källström & Fridens liljer – Prästens kråka
090604: New release,
ER 21, Lucas Stark & Bruksorkestern – Stolt igenom havets böljor
090401: New release, ER 20, Corpo – Swing
090401: New release, ER 19, Kjell Jansson Quartet – Ad Lib On Nippon
090204: New release, ER 18, Wow – In The Vicinity of 317 East 32nd Street
081126: New release, ER 17, Små Blå – Små Blå
081024: Bernt Andersson, musician (Jazz And Art) and painter has passed away. A memorial concert, "A Tribute To Bent Andersson" will be held in Göteborg 17-19 july 2009 with his musical friends from Jazz And Art together with singer Anna-My Zetterberg.
080817: New release,
ER 16, Maria Hörnelius, Bernt Andersson, Kjell Jansson – En sång för Kent
071212:
New release, ER 15, Gilbert Holmström Quartet – The Mandelbrot Set
071031: New release, ER 14, Kjell Jansson – Crossover
071015:
New release, ER 13, Gunnar Källström & Fridens liljer – Krumsprång
070827: New release, ER 12, Små Blå – Utkanter
090226
From http//:spotinews.wordpress.com 2009/02/20 Wow - In The Vicinity Of 317 East 32nd St."Sometimes an album cover makes you stop and say Wow. This is a good jazz record from small label Eld Records and it was included in this weeks first Spotify update. Enjoy!"

061227
Lucas Stark och Bruksorkestern's CD "Skillingtryck och andra otidsenligheter" will be released in the CD-stores (as well on www.cdon.com) on february 12, 2007. The release concert is planned to take place on february 22 i Gotheburg (more information later under CALENDAR).
061220
Gilbert Holmström has recorded a demo/CD at Studio Fabriken. The and Eld Records took a liking to each other, and there is a possibility that a CD will be produced int the later part of 2007.
The band consist of Gilbert Holmström: Saxophone; Kjell Jansson: Double bass; Pider Åvall: Trombone; Anders Söderling: Drums.
The musical direction can be described as Freeform jazz with structure.

060920
Lucas Stark & Bruksorkestern
Lucas Stark and Bruksorkestern are recording a CD in Studio Fabriken under the management of Eld Records. The recording will be finnished in October. The band plays chapbook songs. These songs were yesterdays way of spreading news and stories about horrible murders and other terrible things, although in a poetic form. It was a very slow way of spreading news compared with today. In these days we get to know about everything instantly. Lucas and Bruksorkestern are dealing with the old material in a most respectful way, and they give colour to the songs with modern tunes.

Lucas Stark – guitar and vocal, Sven Appel – double bass and chorus, Leo Berger – Elka Organ, pump Organ, accordion and chorus, Daniel Pettersson – drums and chorus, Livet Nord – violin and chorus. Participating on some tracks: Lars Söderström – violin and chorus.

Frölunda Kulturhus
This autumn, 2006, we will give concerts at Frölunda Kulturhus, Gothenburg "Eld Konserter", "Eld Concerts". From the beginning the thought was to arrange small, intimate concerts in Studio Fabriken in Göteborg/Gothenburg, the studio wich is connected to Eld Records. We wanted the studio to be a meeting point for music and people. As the studio is relatively small, not more than 30 listeners could visit the concerts there. The concept has been to let two artists of musically different characters share one evening. All to give the audience a wide and interesting selection. Frölunda Kulturhus found our idea about Eld Concerts, and during the autumn we will give three of these concerts there.

20 October: Bastukvintetten and Brandqvist/bengmark Kvartett
10 November: Lucas Stark & Bruksorkestern and Maria Stoltz Kvintett (together with some members from Jazz And Art)
2 December: Sten Löfman (solopiano) and Vanessa and the Devilment

060628
Vanessa Liftig with band, Vanessa & no Devilment, will participate in the festivities that will be arranged when the ship Götheborg (old style wooden ship) arrives in Canton, China on July 21. She will bring some friends along, Embee, Timbuktu, Dreamsville (Mimi Terris & Vanessa Liftig) and String Trio. Read more.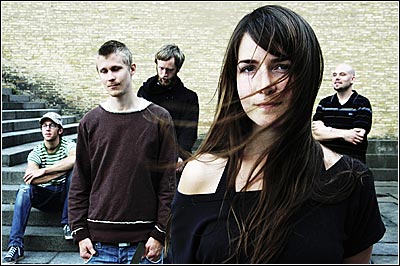 060205
Finally! The CD "Eldar i drömmen" with Bastukvintetten (ER10) with 14 translations of Vladimir Vysotskij's fantastic songs is finally recorded! The CD can be ordered under the file "Catalog", and music samples can be found under the file "Music". Bastukvintetten is having a release party at Jazzhuset, Gothenburg och the 1st of March. The CD has its official release in the record stores on the 6th of March 2006.

060112
Vanessa Liftig has 'become' a band (no name yet) and they have started to record new material at Studio Fabriken. On the 7th and 8th of januari they began and 10 songs were recorded, with Vanessa on vocal, grand piano and acoustic guitar, David Ståhl on electric guitar, Thomas Jansson on double bass and Fredrik Hamrå on drums. Mimmi Terris participated and sang on one track. They will proceed the following months and probably more songs will be recorded. Vanessa has returned to her musical roots and roughened things up compared to her debut CD, When Will is Silent. The following music sample is a rough mix of one of the songs that was recorded, the first song, the first take: Hang Me Up.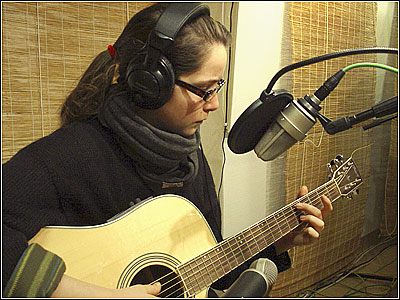 051025
Leif "Pedda" Pedersen and Mats Lindberg gave a release party at Fusion in Gothenburg on Tuesday the 8th of november with their CD "Supa klockan över tolv" (ER9). Colourful interpretations of Carl Michael Bellman were played in one of Gothenburgs nicest music restaurants.

051026
Bastukvintetten has had their translations approved by the publishing firm that administrates the publishing rights of Vladimir Vysotkijs music. This means that their debut CD is beginning to take shape. The CD is expected to be released in the middle of February 2006. There is more to read about Bastukvintetten under "Artists" and there are also music samples to listen to under "Music".

---------------------------------------------------------------------------------

FUTURE RELEASES
• The 12th of September Chaos Butterfly + Biggi Vinkeloe will release an album. It was recorded in front of an audience at an ELD-concert on the 21st of March 2005. The title is Live at Studio Fabriken 21 mars, 2005. ER6.

• On the 14th of September Collan has a release party and a concert at Hängmattan in Gothenburg, for his second CD, Därför skall ni välja mig, ER7.

• In October Leif 'Pedda' Pedersen and Mats Lindberg will release their CD with interpretations of Carl Michael Bellman, Supa klockan över tolv, ER8. The 23rd of September they will give a concert at the library of Öckerö, Gothenburg.

• The 18th of October Leo Berger will have a release party for his debut-CD Höst igen, ER9, at Fusion in Gothenburg. A week or two later his CD will be available in the record stores.
• In October (preliminary) Bastukvintetten will release their CD with their own translations of Vysotskij, ER10.

---------------------------------------------------------------------------------

• Vanessa Liftig had a release party at club Nefertiti on Monday the 21st of February. A little over 350 persons visited the club this evening.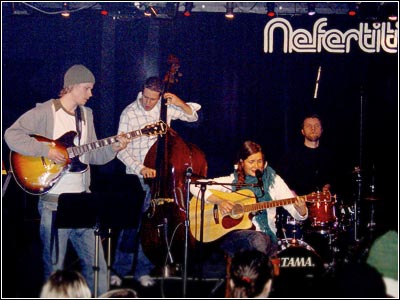 • :NU:nu are just about ready with their first album, recording and mixing is finished. The cover for the album is getting the finishing touch. The release is the 17th of May.

• Mool has been at Studio Fabriken and continued the recording for their debut album which is to be released in the winter 2005. At the end of March a four track demo will be finished.

• Leif Pedda Pedersen and Mats Lindberg are starting up recording again and ELD records aim to release their album with interpretations of Carl Michael Bellmanin autumn of 2005.

• On 14th of February the Debut CD by Vanessa Liftig, When Will Is Silent, will be released, with a releaseparty to follow the 21st of february 7:30 PM at Nefertiti in Göteborg. Everybody is welcome if you should happen to be in the neighbourhood.

---------------------------------------------------------------------------------

Eld Records will soon release albums with:

• Vanessa Liftig, a singer/songwriter. She works on her album at Studio Fabriken. To be released in February 2005.

• :NU (in Swedish :NOW) plays instrumental music with its roots in jazz and pop / rock, or as they put it themselves: totally today's music, characterized by subtle melodies, heavy groove, strange instruments and beautiful harmonies. Four obstinate musicians mixing up a tight and tasty witch brew which could cook over at any time. Like NOW. Fabian Kallerdal – keyboards; Josef Kallerdal – bass; Nils Berg – saxophone, bass clarinet, analog syntheziser; Johan Björklund – drums. The recording took place 1st to 3rd of October at Studio Fabriken. To be released in may 2005.

• Leif "Pedda" Pedersen (song / guitar) and Mats Lindberg (cello) give voice to Sweden's greatest poet, Carl Michael Bellman. They bring texts and music to life with their arrangements and their commitment. The recording sessions are scheduled for October. To be released 1n 2005 or beginning of year 2005.

• Bastukvintetten plays the music from the Russian poet and composer Vladimir Vysotskij (1938–1980). They present 15 new interpretations/translations from one of Russia's most well known composer/writers (he wrote over 900 songs). The texts have been worked on in agreement with Russian born Irina Jalakas. The words have then been transformed into songs. Sven Appel - voice, double bass; Jimmy Ginsby - voice, mandoline, accordion, guitar, marimba; Ola Henriksson - voice, guitar, double bass; Gunnar Källström - voice, guitar; Joakim Schmidt - voice, guitar. The recording has been started and the album will be released autumn 2005.

• Mool (see also under 'Artists') works on new material during the winter 2004/2005, and plans to release a CD in autumn 2005.

• REV+, with Donald Robinson - drums; Lisle Ellis - double bass; Biggi Vinkeloe - saxophone and flute, and guest Paul Plimley - piano recorded a CD in august 2004, after several concerts in and around Gothenburg. The 4tet composed all music in the studio, a music solidly rooted in jazz, very lyrical and melodic, with subtle ensemble playing and strong soloing. The album should be released in 2005.

---------------------------------------------------------------------------------

Images from the ELD Concert at the Art Museum of Gothenburg,
august 15, 2004.



---------------------------------------------------------------------------------

ELD Concerts
At the Art Museum of Gothenburg, on Sunday 15th of august at 5:30pm. Admission: 100 SEK. A unique concert in a very special environment. Jazz and Art and REV+ on a double bill. An interesting mixture of be-bop, swing, free form jazz and real time composing. Canadian pianist Paul Plimley performs with Rev+.
The daily newspaper Göteborgs Posten writes about Eld Concerts (040228):
"The Gothenburg based label Eld Records starts off with a serie of small concerts which will be recorded live and eventually released in the future. Eld Records recording studio Studio Fabriken in Gårda has room for a small audience (around 25 people). The first concert at Studio Fabriken takes place on Wednesday, 10th of march with koto player Miya Masaoka from USA and saxophonist/flutist Biggi Vinkeloe from Sweden."

---------------------------------------------------------------------------------

A sampler for promotional purposes has been made featuring the following artists: Claes Pihl, Jazz and Art, Biggi Vinkeloe/REV, Mool and Steven 'Stefano' Musitano.

---------------------------------------------------------------------------------

Januari 25-29 2004: Eld Records took part in MIDEM, the 38th International Music Market in Cannes, France, the World's largest music business convention. Eld Records will represent the company's own artists as well as some other Swedish collaborators.