Jazz and Art is a quartet which often combines painting and poetry. Their individual improvisational abilities, a sensitive and dynamic group interplay, the joy of playing, and melodic beauty are all forged together while they uphold the essential "elements of swing" in their music.
The character and artistry of Jazz and Art's original compositions, and the conviction with which they perform those and classic tunes, are shaped by the fact that each of the band members have long, creative and productive musical careers.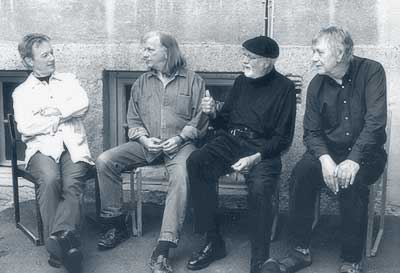 Bengt Andersson:
Shortly before the turn of the millenary, I met pianist Sten Löfman at the Art Museum of Gothenburg. Our conversation during the intermission resulted in us getting together to play.
In time, a quartet was formed together with bassist Clas Engwall and drummer Gunnar Pettersson. Gunnar had been a substitute musician in my quintet in the 80's, and we had talked about playing together again. Clas and Gunnar were already performing together in other groups, and Sten was also an old musician buddy of theirs.
Our group was named "Jazz and Art" since we sometimes include poetry, lyrical songs and live painting in our performances. Jazz goes through it all, like a blue veil of smoke. The swing element is extremely important, but beauty also has its place. Our repertoire is based on jazz classics and our own material.
Sten Löfman (piano) is one of those musicians who already in the beginning of the 60's stretched the boundaries of jazz through free-form jazz, musical theatre, happenings, improvised music/lyrics and co-operation with dancers, actors and poets.
Sten has mostly led his own improvisation groups but he has also performed with the Gothenburg Jazz Quintet, Enar Johnsson's Sextet, Öyvind Eigar's Septet and others. Sten moves very freely between different styles of music and has therefore performed in a great variety of musical contexts. He has, for example, accompanied American blues singer Barbara Dane, South African singer Jennifer Ferguson, and worked with actors such as Maria Hörnelius, Sonja Gube and Eva Löfman.
Sten released his first jazz LP in 1980 and he recently made a very well received solo piano album, "Glänta"("Glade").
In 2000, Bengt and Sten started a quartet where painting, poetry and jazz are part of the performance.
Bengt Andersson-Råssbyn (harmonica) painter and musician, started his first ensemble in the 70's. In 1980, Bengt started a quintet with Ulf Bandgren, Raymond Karlsson, Per-Ola Gadd and Tommy Kotter (who joined in 1982), toured all over Sweden and recorded a highly praised LP, "Vackert Väder" ("Beautiful Weather"). In 1986, Bengt's quintet played at the prestigious Skeppsholmen Jazz Festival in Stockholm, earning them well deserved attention and many new gigs. He recorded the LP "Pictures" in 1985, and his first CD, in 1992, with Lars Andersson, Torbjörn Gultz, Pål Christensen and Göran Kroon.
In 2002 Bengt released another CD, "The Painter's Dance", recorded at the Glenn Miller Club in Stockholm, and the critics gave it fantastic reviews. It features Torbjörn Gultz on piano, Filip Augustsson on bass and Sebastian Voegler on drums. Since 2000, Bengt and Sten have a quartet, "Jazz and Art". They tour all over Sweden with their delightful mixture of jazz, live painting and poetry. Bengt Andersson passed away the 24th of october 2008.

Clas Engwall (double bass) has many years of experience as a musician, both nationally and internationally. By the end of the 60's, he established himself in Gothenburg and, among other groups, played in "Göteborgs Musikkvartett" ("The Gothenburg Music Quartet") and Enar Jonsson's Quartet, of which Sten Löfman was also a member.
Clas left Gothenburg in the mid-70's, and after some time he ended up in), The Visby Big Band Regionsmusiken (a regionally sponsored music ensemble). After that he played in a big band in Linköping and worked as a freelance musician with several musicians from the international elite, such as Kenny Drew, Horace Parlan, Don Menza, Bob Wilber, Roland Hanna, Ernie Wilkins and others.
After a short period in Switzerland with American singer Jan Harrington, he returned to Gothenburg in 1989. At present he is also a member of Gugge Hedrenius' Big Blues Band, Bopblicity and Bo Kenne Quartet.

Gunnar Pettersson (drums) has for many years been one of Sweden's most established drummers and a phenomenon on brushes. Gunnar has played in many different contexts, with Gilbert Holmström in Mount Everest, with Totta's Blues Band, touring the Nordic countries with Ron Wood (Rolling Stones' guitarist), Gugge Hedrenius B B B and Bopblicity.
He has also played at Göteborgs Stadsteater (the Gothenburg City Theatre) for 17 years, in the TV program "Go'Morron Sverige" for 8 years, in countless other TV programs and as a guest artist in various big bands, as well as an accompanist to most of our famous Swedish artists such as Svante Turesson, Monica Borrfors, Viktoria Tolstoy, Eva-Britt Strandberg and others.