Claes Pihl grew up in a home where the music of classic Swedish folk-singer/songwriter musicians was often heard coming from the living room speakers, inspiring him to start writing tunes and playing the guitar at an early age. In 1988, Claes began studying at Chalmers School of Technology in Gothenburg, Sweden. The frequent campus festivities there gave Claes a natural forum to perform at. Soon, he got involved with the established folk music environment which at this time was experiencing a re-birth thanks to the folk music course at the Nordiska Folkhögskolan, in the nearby town of Kungälv.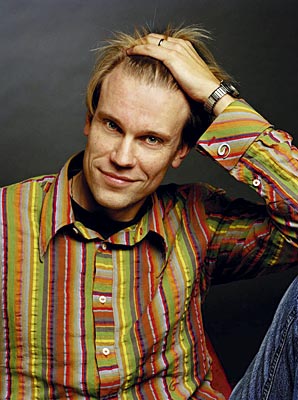 His Swedish lyrics weave together witty rhymes and play-on-words with story telling, chock full of imagery. Musically, his songs are a mix of genres such as rock, folk, jazz and country music.
In 2000, Claes' first album "Jag skulle ha lyssnat på kvällsekot"("I Should Have Listened To The Evening News") was released by the company Last Buzz. It got good reviews and a number of songs were played on the radio, including"Extrapris" (Special Price), "Vi åker buss" (We Ride The Bus) and "Jag tror på strutsen" (I Believe In The Ostrich).
In recent years, Claes has performed at the song festivals of Falkenberg, Skuleberget and Helsingborg. He has performed solo and with different bands on various stages all over Sweden. Last year he was engaged by Rikskonserter (Swedish state sponsored concert organization ) to tour the country.
Claes is backed bya number of highly talented musicians including jazz musicians such as saxophonist Gilbert Holmström, pianist Fredrik Åkerblom and bassist Clas Engwall, and rock musicians such as guitarists Martin Gabriel and Mattias IA Eklundh, and drummer Abbe Abrahamsson.
With his new CD "Hopptorn" (Diving Tower),Claes takes a big step forward – right off the diving board. As Claes puts it in his title track, it is all about free falling and climbing at the same time!